Our knowledge, experience and effects of our approach have lead to a publication about a powerful development tool for personal leadership. The training and coaching methods Windkracht-11 uses are partially based on this publication. As a result many professionals have been able to increase their personal impact. These methods have also proven their effectiveness in Sales and Management development programs.
Major sources of inspirations are Marshall Goldschmidt, author of the book "What got you here won't get you there" and Daniël Goleman known for his work on Emotional Intelligence. But for me authors like Manfred Kets de Vries and Danah Zohar can't be missed out either.
Your own passion and inspiration drive leadership. First look after yourself by getting to know yourself. Only then you can look after others properly. That's is not being selfish, rather: you would mistreat yourself if you wouldn't.
Zohar describes that inner engine nicely as SQ. Know what your ambition is and that will be your compass. SQ is again the basis for EQ (connection, relationships) and IQ (intelligence, your head, the facts and figures). This ensures that you can create, successfully build teams and inspire them. And complete the picture by always looking outside: it happens! Mark the change in need of your customer and come in ACTION.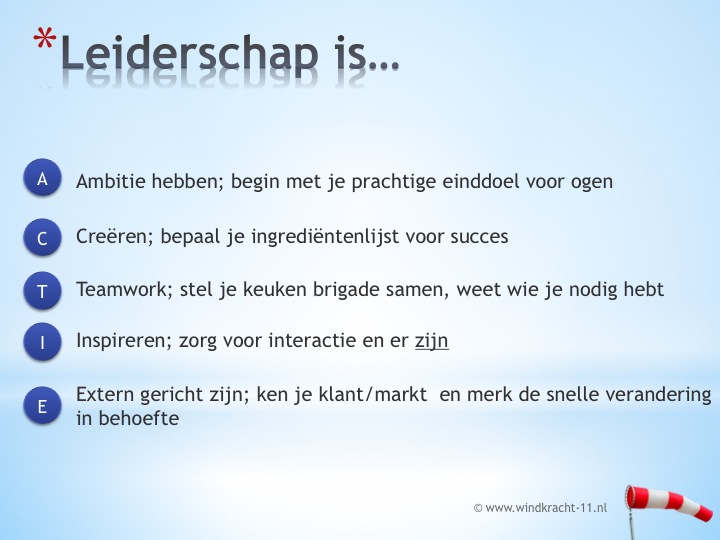 In the projects of Windkracht-11 in the field of culture & leadership, the recognition of motives and the development of specific competencies are central. Recognize and appoint your own strengths and strengths and then see and develop the strengths within your team. This forms the basis of all Windkracht-11 routes.
We deliver tailor-made solutions, because every organization has its own needs and dynamics. A combination of intervision, workshops, training and coaching supplemented with powerful assessments and other inspiring instruments.
That is Windkracht-11.
Om de volgende specialiteiten staat Windkracht-11 bekend
Het begrip 'Cultuur' maken we samen tastbaar en werkbaar.
Mensen meekrijgen in de (nieuwe) strategie en visie van het bedrijf.
Hoe jij het begrip leiderschap invulling geeft binnen je organisatie.